Design your own custom neck gaiter with no minimum limits, the lowest price from $1.89!
FastPrintStar Create Premium
Custom Neck Gaiters

Online!
At FastPrintStar®, we specialize in creating premium custom gaiters online. With our easy-to-use design tools, you can get the best custom neck gaiter with logos, patterns, or text. Experience top-notch quality and fast production for your personalized gaiter at FastPrintStar® today!
Multiple Material Options
Seasonal versatility with multiple material options for customized neck gaiters.

Custom All-over Printing
Stunning custom designs with all-over printing using sublimation printing technique.
No Minimum Order
Enjoy the flexibility of ordering any quantity with a low minimum custom neck gaiter.
Fast Turnaround Time
Experience swift production and delivery with a fast turnaround time of just 10 days.
What Kinds Of Custom Gaiter Mask
 We Offer

?
Custom Polyester Neck Gaiter
Our Custom Polyester Neck Gaiters are perfect for all-season use. Crafted from high-quality polyester, these gaiter masks offer breathability and moisture-wicking properties, ensuring comfort in any weather. Customize them to showcase your brand, team, or event, and stay protected and stylish year-round.
Custom Cooling Neck Gaiter
Custom Cooling Neck Gaiters, also known as Custom UV Neck Gaiters,  is your ultimate companion for hot summer days. Made with advanced cooling technology, these gaiters provide instant relief from the heat, while UPF 50+ protection shields you from harmful UV rays, which makes them usually used as custom fishing neck gaiters. Stay cool, comfortable, and protected during all your outdoor activities in summer with these stylish and functional neck gaiters.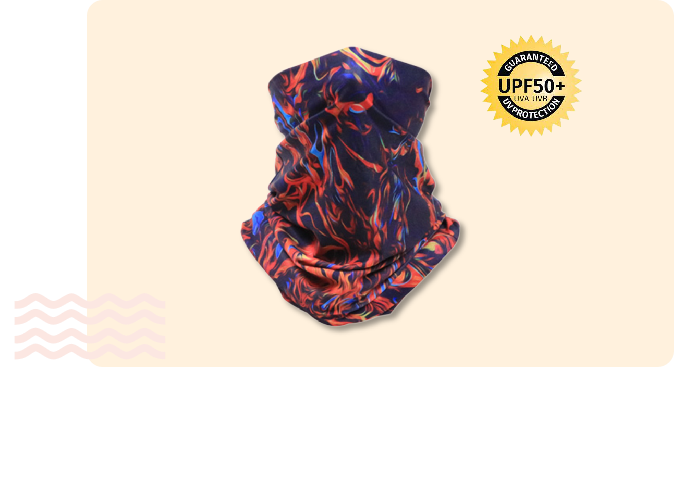 Custom Fleece Neck Gaiter
Our Custom Fleece Neck Gaiters are perfect for winter adventures. Made with premium fleece material, these gaiters offer exceptional warmth and insulation against the cold. Whether you're skiing, snowboarding, or simply exploring the winter wonderland, our fleece neck gaiters can be used as a ski mask (custom skiing neck gaiters) or a neck warmer to keep you cozy and comfortable throughout your outdoor escapades.
Custom Eco-friendly Neck Gaiter
Our Custom Eco-friendly Neck Gaiters are made with sustainable materials and environmentally friendly production processes, these gaiters are the perfect choice for conscious consumers. Stay comfortable and stylish while reducing your ecological footprint. Choose a greener option without compromising on quality and performance with our eco-friendly neck gaiters.
Our Customized Neck Gaiter
In Action
How To Creat The Perfect
Custom Design Neck Gaiter

?
Sublimation printing, our custom neck gaiter printing, also known as heat transfer printing, is a popular method for custom printed gaiters. This technique involves transferring ink onto the fabric through heat and pressure, resulting in vibrant, long-lasting designs.
Sublimation printing offers a full-color, all-over print capability, allowing for intricate patterns and gradients. The colors are deeply infused into the fabric, ensuring fade resistance and durability. With sublimation printing, your custom sublimated neck gaiter will showcase vivid, high-definition patterns or logos that stand out and make a lasting impression. Therefore, whatever you want to print, we can turn it into reality on your dye sublimation neck gaiter.
Custom Face Gaiter With Logo
Discover the ultimate way to showcase your brand with neck gaiter custom logo! Imagine your employees sporting gaiters with your company logo, not only promoting your brand but also providing them with comfort and protection while working outdoors. FastPrintStar ® offers both custom logo neck gaiter no minimum and custom neck gaiter wholesale, perfect for businesses of any size. Elevate your company's identity and create a lasting impression with our gaiters today!
Custom Neck Gaitors With Patterns
Unlock the festive spirit with our custom printed gaiter featuring enchanting festival patterns! People love to customize gaiters with holiday themes to add joy and cheer to their celebrations. At FastPrintStar®, we collaborate with talented designers who craft holiday patterns like Christmas, Thanksgiving, and more. These limited gaiters become popular holiday items, spreading happiness during special occasions. Embrace the holiday magic with our custom made gaiters!
Custom Survivor Neck Gaiter
Stand strong with our custom Survivor neck gaiter! Embrace your love for the show by personalizing your gaiter with Survivor's iconic theme logo. Survivor fans rejoice in showcasing their passion for the hit reality series with these stylish and practical accessories. Whether you're out adventuring or cheering on your favorite contestants, our Survivor gaiter will be your loyal companion. Express your fandom and stay protected in Survivor style!
Neck Gaiter Custom For

Every Occasion
As trends shift towards a more health-conscious and fashion-forward mindset, the custom neck gaiter is rapidly becoming a staple accessory. From custom club neck gaiters to custom business neck gaiters, their adaptability to multiple situations, ease of use, and expressive designs make it a popular choice among people of all ages. This multifunctional piece serves as a protective barrier, a fashion statement, and a must-have accessory, catering to a wide range of individuals and situations.
Custom Sport Neck Gaiter /
Custom Athletics Neck Gaiters
Our custom neck gaiter no minimum is an essential companion for your active lifestyle, catering to various sports and outdoor adventures. Stay protected and comfortable during hiking, skiing, winter activities, fishing, hunting, running, snowboarding, military training, outdoor research, cycling, and more. Crafted with high-quality materials, these versatile personalized gaiter masks provide optimal moisture-wicking, breathability, and UV protection, ensuring you enjoy every moment of your exhilarating journeys. Customize our custom made gaiter masks to reflect your style and stay prepared for any outdoor pursuit.
Custom Event Neck Gaiters
Make your events unforgettable with custom neck gaiter for events! These versatile accessories are the perfect addition to festivals, concerts, and sporting events. Create a sense of unity and identity among attendees by customizing neck gaiters with event logos or themes. With various material options and printing methods available, you can design eye-catching gaiters that serve as stylish keepsakes for participants. Whether it's a music festival, charity run, or a corporate gathering, our custom logo gaiters will elevate the event experience.
Custom Gaiters For Outdoor
Stay protected and comfortable during outdoor work with our custom cooling gaiter! Designed for durability and versatility, these gaiters are perfect for construction workers, landscapers, and outdoor enthusiasts. With moisture-wicking and UV protection properties, they shield you from the elements. Design your own custom neck gaiters with logo or team name for a professional and cohesive look. Whether it's sun exposure, dust, or wind, our custom printed face gaiters provide reliable coverage and enhance safety in any outdoor work environment.
Boost team spirit with custom team gaiter masks for team activities. Whether it's sports teams, school clubs, or corporate events, these versatile accessories keep participants united and stylish. Customizable with team logos and colors, these custom gaiter masks with logo foster a sense of identity and camaraderie. Perfect for outdoor adventures, charity runs, and group competitions, the custom team neck gaiter provides protection and comfort while showcasing team pride. Create a lasting impression and promote team unity by ordering our premium custom logo neck gaiters for all your team activities.
FastPrintStar – Your

Trusted

Custom Neck Gaiter

Provider
Welcome to FastPrintStar®, your trusted custom neck gaiters maker! With a commitment to excellence, we offer the best brand neck gaiter that combines style, comfort, and functionality. Our vast range of designs and materials caters to outdoor enthusiasts, athletes, event organizers, and businesses alike. Whether it's for team activities, outdoor work, or special events, our high-quality custom neck gaiters are the perfect accessory. Experience our fast and reliable service, backed by 15+ years of expertise in the professional product industry. Trust FastPrintStar® to elevate your brand and outfit you for any adventure!
Make Your Personalized Neck Gaiters in
3 Steps

with FastPrintStar
1. Select Your Product Online 
Select your preferred neck gaiter material, size, and color from our large range of high-quality customised neck gaiters
.
2. Upload Your Logo
Just need to upload your neck gaiter design or logo to our website, and leave your requirement or design idea.
3. Leave the Rest to Us
Once the order is submitted, your expertly custom printed neck gaiters will arrive so quickly you'll wonder how we do it
Customer Reviews

On Our Best Branded Neck Gaiters
As a professional gaiters supplier,  we offer the best custom neck gaiters for customers around the world.
"Absolutely love my custom neck gaiters bulk from FastPrintStar! The material is soft and breathable, perfect for outdoor adventures. The printing quality is top-notch, and the logo looks stunning. Plus, the customer service was exceptional - quick responses and fast delivery!"
"I ordered wholesale custom neck gaiters for my team, and they turned out amazing! The design options were extensive, and the no minimum order allowed us to get just the right amount. The gaiters are comfortable, versatile, and ideal for our outdoor events. Highly recommend FastPrintStar for their excellent products and service!"
Everything You Need To Know About Neck Gaiters

FastPrintStar knows what your needs are,
Customize your neck gaiters online today!
Frequently Asked
Questions
About Custom Designed Neck Gaiters
What are custom neck gaiters used for?
Custom neck gaiters are versatile accessories suitable for various activities, such as outdoor sports, events, and team activities.
Can I customize neck gaiter with my own design?
Yes, you can personalize neck gaiters with your logo, pattern, or text using our easy design tool.
What materials are available for your custom neck gators?
We offer a range of materials like polyester, fleece, and eco-friendly options to suit different needs and seasons.
Are the customizable neck gaiter suitable for all seasons?
Yes, we have gaiters designed for all seasons, including cooling gaiters for summer and fleece gaiters for winter.
Do you offer no minimum order for personalised neck gaiter?
Yes, we cater to both small and large orders, offering both custom gaiter no minimum and bulk custom neck gaiter.
Are the gaiter scarf machine washable?
Yes, our custom gaiter scarves are easy to care for and can be machine washed for convenience.
Can I get UV protection with custom neck gaiters?
Absolutely! We have cooling neck gaiter custom with UPF 50+ UV protection, ensuring you stay safe under the sun.
What is the turnaround time for neck gaiter custom printed?
Our fast turnaround time is typically 10 days, ensuring you receive your custom gator mask promptly.
Can I get any discounts for wholesale neck gaiters orders?
Yes, we offer bulk order discounts for larger quantities. The more gaiters you order, the more you can save. Contact our sales team for specific pricing of bulk neck gaiters.