Join the custom sock revolution today! Step into a world of personalized comfort and style with our Custom Socks!
FastPrintStar
Create The Best

 

Custom Socks

 

For You!
At FastPrintStar®, we're on a mission to elevate your sock game and make a statement with every step. We believe that socks are more than just a wardrobe essential – they're a fashion for self-expression. That's why we're here to help you create the best custom socks that perfectly reflect your style and personality.
Our custom print socks are crafted with the utmost care and attention to detail, ensuring comfort and durability with every wear. From vibrant patterns to personalized messages, the possibilities are endless. FastPrintStar is your go-to destination for unique, high quality custom socks that are bound to turn heads and spark conversations. Get started today and let your creativity shine with FastPrintStar!
Quick Turnaround
Ensure swift production and delivery, getting your socks customized to you in 8 days.
No Minimum Order
Enjoy the convenience of shopping without any minimum order requirements.
Unrivaled Quality
Crafted from the finest materials, our custom design socks offer exceptional comfort and durability.
Lowest Price Guarantee
Offer Lowest Price Guarantee, ensuring you get the best deals on our customized socks.
Our Exquisite Customized Socks

Craftsmanship
High-Quality Soft Fabric
Experience ultimate comfort with our custom tube socks, made from premium, breathable soft polyester fabric, which is not only incredibly soft but also durable, ensuring that your custom made socks feel amazing and last for a long time. These socks are designed to keep your feet feeling fresh and dry, thanks to their excellent moisture-wicking properties. The fabric's superior elasticity ensures a snug and comfortable fit while allowing your feet to breathe effortlessly.
Professionally Bound Edges
Enjoy the perfect blend of style and comfort with our custom socks, featuring expertly bound edges. Our meticulous edge-binding process ensures that these socks custom don't constrict or leave uncomfortable marks on your legs. With ample elasticity, they stay securely in place without ever feeling tight. Step confidently with socks that not only look great but also provide a superior fit and freedom of movement.
Full-color Sublimation Printing
Unleash your creativity with our custom sublimation socks that offer full-color printing. Whether you want to showcase your favorite photos, intricate designs, or vibrant patterns, our socks can bring your vision to life in stunning detail. With sublimation printing, colors are vivid, and images are sharp, ensuring that your custom sublimated socks are truly one-of-a-kind. Add a personal touch and create custom socks that tell your unique story with our full-color printing capabilities.
Our Custom Printed Socks
in Action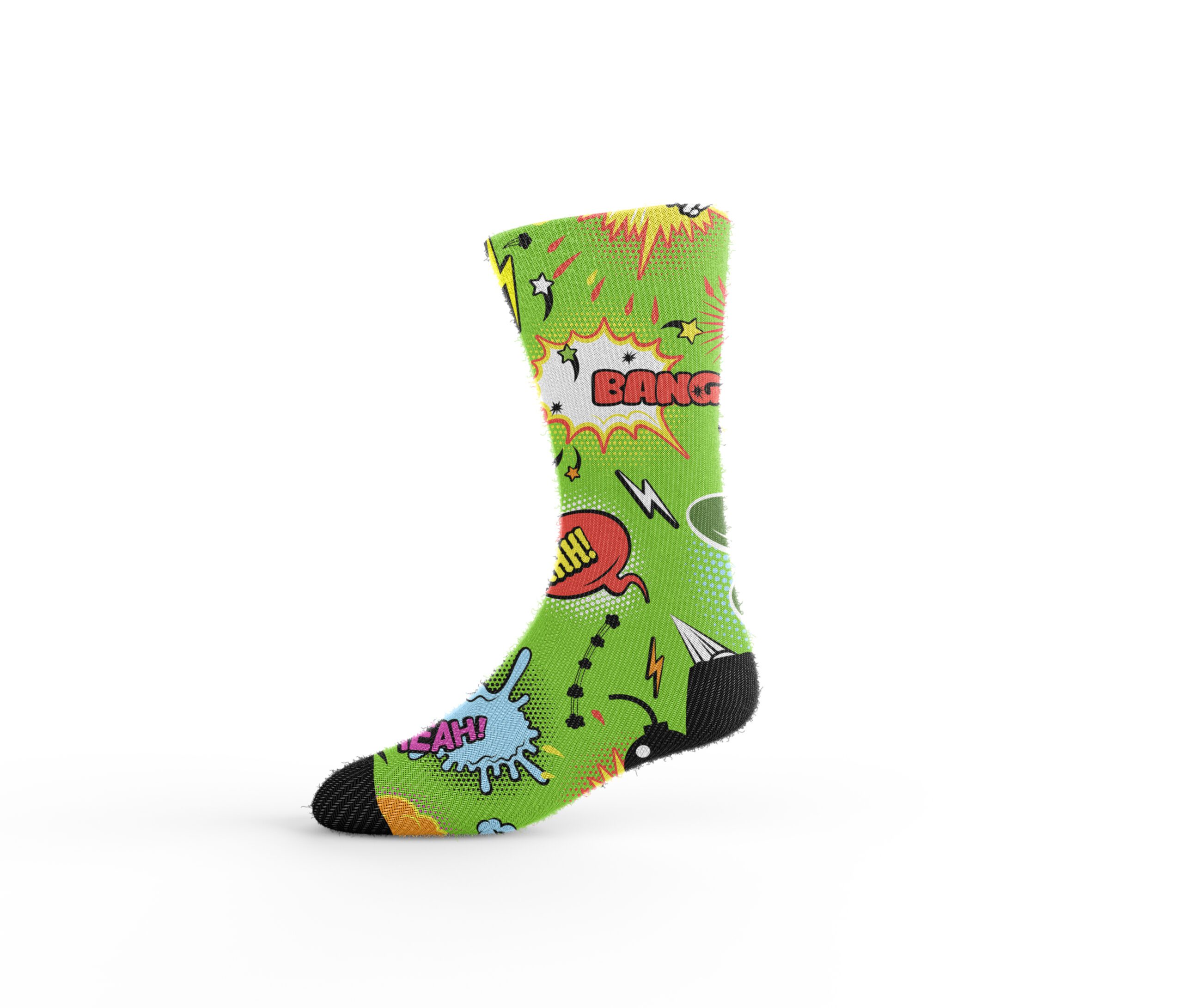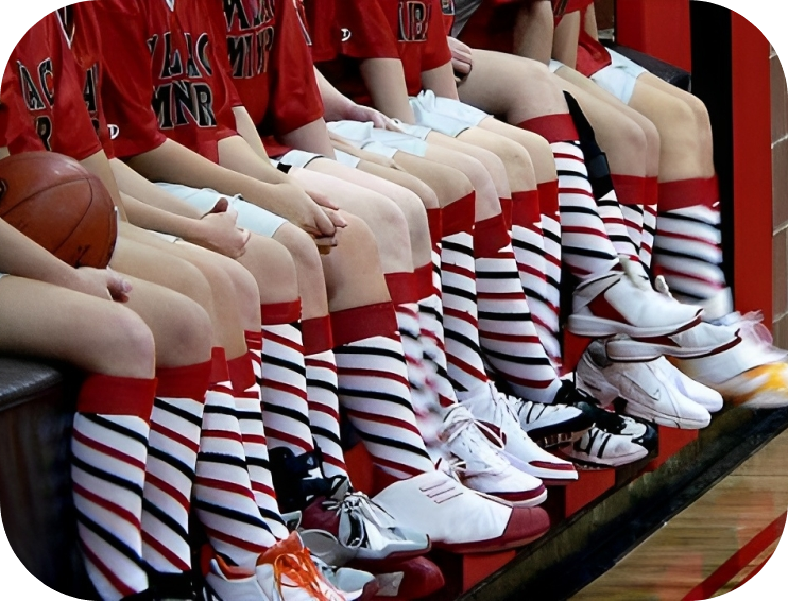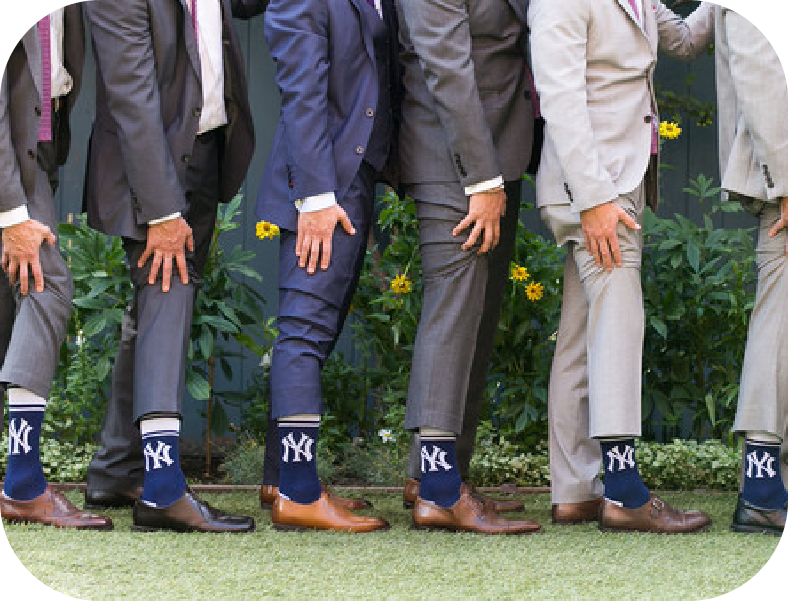 Design Ideas

For Socks Custom
Transform your cherished memories into wearable art with custom socks with pictures! Whether it's a family photo, a breathtaking landscape, or a special moment, our socks can be customized with any image. Carry your memories with you wherever you go.
Custom socks with logo or custom socks with words make your brand stand out! Perfect for businesses, organizations, and events, these socks can be branded with your logo and message. Create a lasting impression and elevate your promotional efforts.
Turn your favorite faces into wearable art with custom socks with faces! Showcase your loved ones, pets, or even your own face on these fun and personalized socks. Create a unique fashion statement or give a heartwarming gift that'll make everyone smile. 
Capture your favorite moments on custom socks with photo! Upload your photos and create unique, personalized socks that tell your story. Whether it's a travel adventure, a special occasion, or a cherished friendship, relive those moments with every step.
Celebrate your furry best friend with dog socks custom! Our high-quality socks can be customized with your dog's adorable face. Keep your four-legged companion close, even when you're apart. The perfect treat for dog lovers!
For cat lovers everywhere, the cat socks custom is the ultimate accessory. Add your feline friend's charming face to these cozy socks and wear your love for cats on your feet. It's a perfect way to express your passion!
Different Kinds

of Custom Sock Design
Nowadays, there are many Different Kinds of Socks for different needs. From custom knee high socks to custom ankle socks, and from custom team socks to custom dress socks, we've got it all. Now step into the world of Socks!
Various Types of
Custom Sports Socks
Custom sport socks are a versatile accessory tailored to fit your specific athletic needs. You can design custom baseball socks that match your team's colors or create custom soccer socks that showcase your unique style on the field. Softball players can also enjoy the benefits of personalized comfort with custom softball socks, while football athletes can choose custom football socks that provide the perfect blend of support and style.
For those who hit the ice, custom hockey socks offer a great way to show team spirit or individual flair. Basketball players can step onto the court in custom basketball socks designed to enhance performance. Cyclists and hikers can enjoy custom cycling socks and custom hiking socks that offer the right balance of cushioning and breathability. Runners can stay comfortable and motivated with custom running socks, while cheerleaders can add a touch of personality to their routines with custom cheer socks. Even golfers and skiers can benefit from custom-designed socks. Custom golf socks can keep you comfortable during those long days on the green, and custom ski socks are essential for staying warm on the slopes. 
No matter your sport or activity, custom sports socks allow you to express yourself while enjoying the benefits of tailored comfort and performance.
Why Choose
FastPrintStar

to Customize Socks? 
At FastPrintStar®, we're your best custom sock manufacturers for personalized socks that stand out from the crowd. With a commitment to quality, creativity, and customer satisfaction, we bring your sock customization dreams to life. Our attention to detail, premium materials, and vibrant printing ensure your custom sock is second to none. Whether you want to order custom socks no minimum for personal use, or wholesale custom socks in bulk to showcase your brand, our customization options are limitless.
Choose us as your trusted partner to customize your own socks that leave a lasting impression. Elevate your fashion game, express your creativity, and make a statement with custom socks from FastPrintStar.
Order Custom Personalized Socks
in 3 Steps

with FastPrintStar
1. Select Your Product Online 
Select your preferred custom designed socks from our large range of high-quality customizable products.
2. Upload Your Logo
Just need to upload your sock design or logo to our website, and leave your requirement or design idea.
3. Leave the Rest to Us
Once the order is submitted, your expertly custome socks will arrive in no time!
Ideas For
How to Make Custom Socks
Welcome to watch the video on how to create custom socks! If you're looking to add a personal touch to your sock game or explore creative ways to design custom socks, you've come to the right place. This video will showcase a variety of exciting ideas and techniques to inspire your custom sock creations.
Join us on this creative journey and unleash your imagination as we explore the endless opportunities for custom sock design. Let's get started!
* If you want to know more about sock custom, welcome to visit our blog page or search on YouTube for more related videos.
What Our
Users Speak

About Our Cheap Custom Socks
As a professional custom sock maker, we offer the best best custom socks for customers around the world.
"I ordered custom socks wholesale for my team's corporate event, and they were a hit! The full-color sublimation printing captured our logo perfectly, and the expertly bound edges made them comfortable to wear all day. Everyone loved the personalized touch, and it was a fantastic way to promote our brand. I will definitely place my second order soon. Excellent service and top-notch socks, Highly recommended!"
"I'm a repeat customer because these customized socks with pictures never disappoint. I can't express how thrilled I am with these custom socks with face! The design came out even better than I expected, and the quality is outstanding. They're comfortable, stylish, and truly unique. I've already received compliments, and I'll definitely be ordering more face socks custom. Thanks, FastPrintStar, for making my feet happy!"
Everything You Need To

Know About

Customized Socks
Ultimate Guide About Socks: Everything You Need to Know
Read More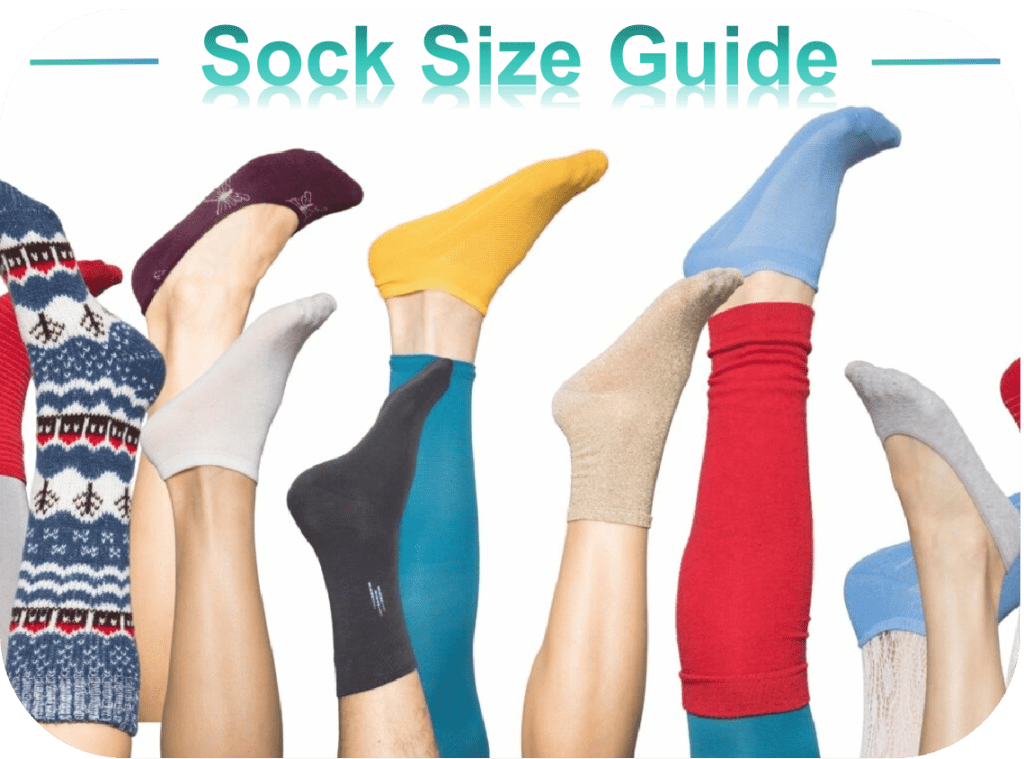 Sock Size Guide: What Size Socks Do I Need? 
Read More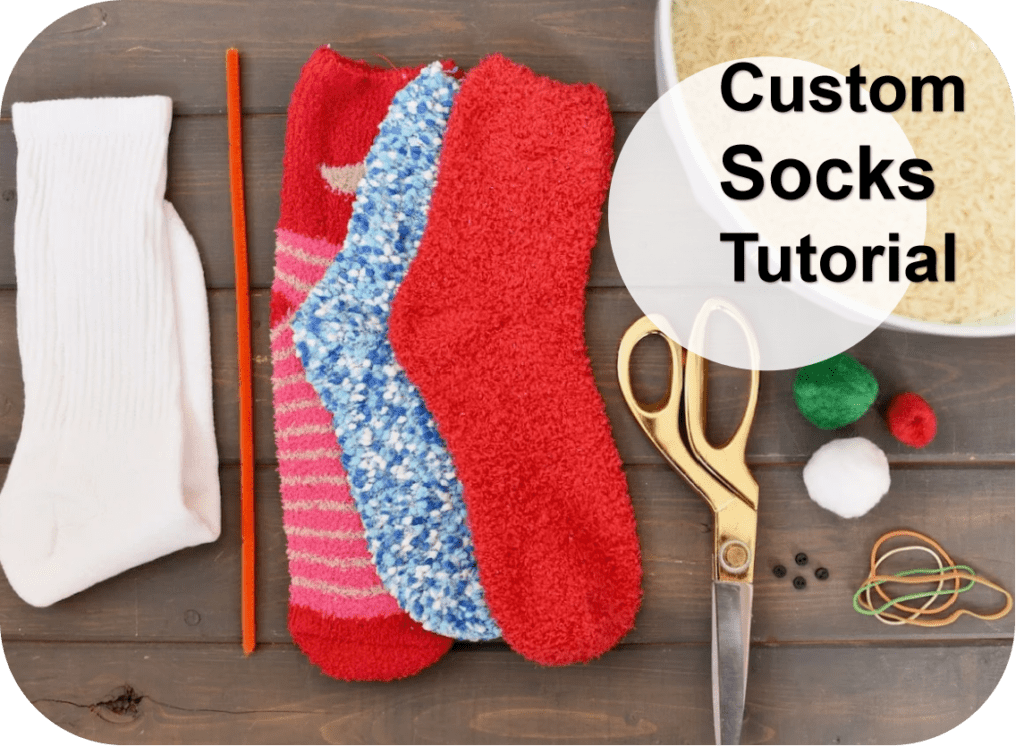 Custom Socks Tutorial: How to Make Socks?
Read More
Frequently Asked
Questions
About Custom Socks
What is the minimum order quantity for your custom socks?
We offer custom socks no minimum for you! You can even start from 1 single pairs. But the more you order, the cheaper the price would be. Whether you need just one pair of customized socks or bulk custom socks, we've got you covered.
Can I design my own customized socks with faces or pictures?
Yes, of course! We allow you to design your own pictures, patterns, logos, words, and colors. Whether it is custom socks with multiple faces or customized socks with logo, you can just feel free to upload your design file on our website, and our designer will take the rest.
What materials are your custom socks typically made of?
Our custom wholesale socks are commonly made from top-grade soft polyester, which is not only incredibly soft but also durable. But if you need other materials like cotton, nylon, or spandex, just feel free to contact us.
How long does it take to receive customized face socks after placing an order?
The production and delivery times for custom socks depend on several factors, including the complexity of your design, order quantity, and the production schedule. Typically, we aim to have your customize socks with pictures produced and shipped within 10 business days. Rush orders may be available for an additional fee.
Do you offer discounts for bulk order custom socks?
Yes, we offer competitive pricing for bulk orders. The more you order, the more you save. Feel free to reach out to our customer service team to discuss your specific requirements and receive a quote.
Can I get a sample or prototype of my custom image socks before placing an order?
We provide digital proof of your custom design before we begin production. This ensures that you're satisfied with how the final product will look. But if you want to a real sample sent to you for your custom bulk socks, we also offer this option, just feel free to contact us.